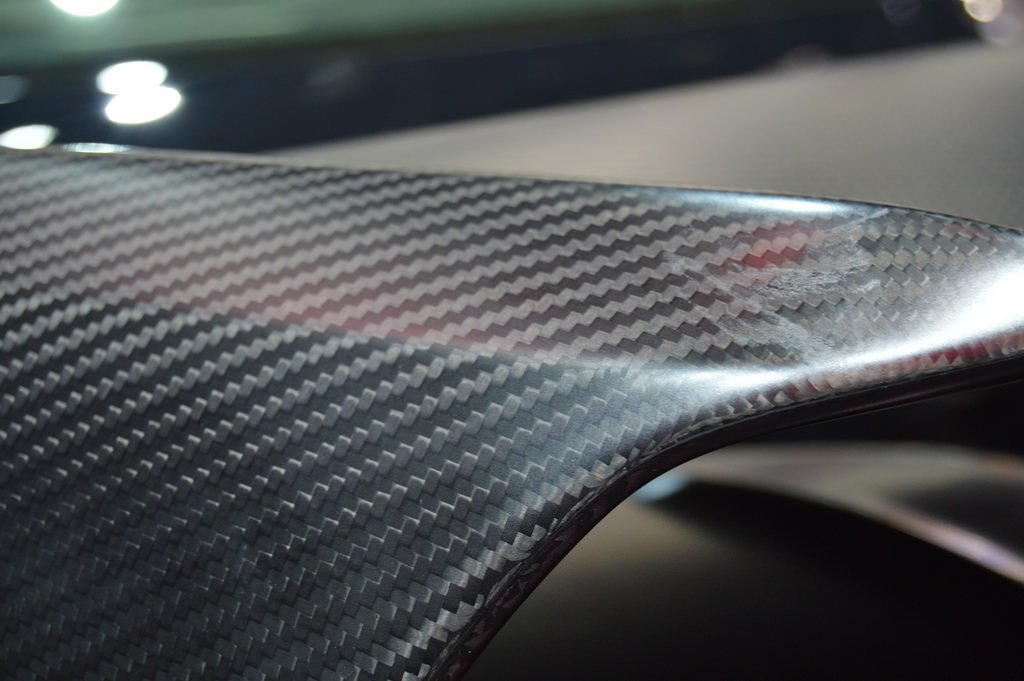 AUTO BODY REPAIR SPECIAL – Complete Carbon Fiber #1: Wheels
One Tempe auto body repair specialist after another will tell you, driver safety always ranks higher among our priorities than one-of-a-kind style. We guarantee we'll always employ every industry-leading tool and technique at our disposal to restore every vehicle as close as possible to pristine factory glory. Of course, the better care we can help every Tucson driver take of their prized rides, the easier our jobs often become when their wheels grace our bays.
That's why we've compiled this informative guide to one of automotive customization's most prized style upgrades and one of auto body repair's most detail-demanding challenges: carbon fiber. This multi-part series will examine the essential bullet points every driver needs to weigh before tricking out a car with slick aftermarket carbon fiber kits. Naturally, we're starting literally from the bottom up: the pros and cons of carbon fiber wheels.
For what it's worth, our position is that carbon fiber parts in general are so sought-after among modification enthusiasts for a reason. Carbon fiber's remarkably light weight cuts back engine strain from heavy acceleration by lending any vehicle a higher power-to-weight ratio that also reduces tail pipe emissions and improves fuel consumption. There just happen to be some important caveats to be aware of before modding.
A WORD ON AUTO BODY REPAIR AND CARBON FIBER PAINTING
Since painting is indispensible to either professional or amateur auto body repair, let's clarify a minor myth about carbon fiber parts in general: yes, you can paint, provided you pay attention to the prep work.
Nowadays, painted OEM carbon fiber fenders, hoods and spoilers are commonplace on performance vehicles. In fact, painting carbon fiber can prolong its lifespan with an added protective coating that helps to minimize harsh elemental exposure. Just make sure to ensure a sound bonding process by sanding the surface down before you paint. After painting, add a clear coat to deliver an eye-catching protective finish.
PRICE
This is performance you will pay for, but we can also guarantee you'll appreciate where the extra money went as soon as you feel how they handle beneath you.
Carbon fiber wheels are the only aftermarket options more expensive than magnesium alloy, coming in at somewhere between $10,000 and $12,000 on average. If you're willing to fudge performance to a degree without sacrificing the stylish look, you can always opt for heavier magnesium alloy wheels with handsome carbon fiber facing. Practically speaking, however, drivers who don't obsess over carbon fiber's inimitable aesthetics might as well just opt for magnesium alloy without the additional outer layer.
WEIGHT & FEEL
Carbon fiber is a prized material in auto racing circles for a reason. Forget visual impact. Weighing in as light as 6 pounds each, these wheels entirely alter the way any vehicle feels and drives. They both handle and brake startlingly lighter than any other wheels on the market, but adjusting one's driving style to the tighter responsiveness takes some adjustment, espeically the vastly different cornering.
Elite racing teams wouldn't so readily embrace carbon fiber wheels if they weren't also incredibly durable. They aren't invincible. Not many passenger vehicles are too heavy for carbon fiber wheels. Even when traveling at speed, these beauties won't sweat potholes. The downside being, carbon fiber is irreparable. If you should somehow manage to wreck a wheel, replacement is the only option.
Remember those average prices? That means a $2,500-$3,000 kick per wheel to your wallet.
LOOKS
We aren't sure we'd believe any everyday driver who opts for carbon fiber wheels and claims that their visual appeal never factored for a moment into the elective expense.
As long as you have the scratch to spare, the look of carbon fiber has no downside whatsoever. That these wheels surpass even magneisum alloy in stunning looks is an opinion just about unanimous enough to be "fact". To get the most out of adding carbon fiber wheels, we strongly recommend making sure that the rest of your vehicle already looks dialed-in so that the wheels are simply a performance-packed stylish, punctuation on an already eye-catching ride.
SECURITY
As an all-important capstone from professionals who intimately understand the expense of auto body repair to owners prepared to lay out the cost of a model-year clearance new car for four carbon fiber wheels, let's briefly cover an essential added security upgrade.
Carbon fiber's unmistakable visual style unfortunately paints a bullseye for thieves on customized rides. The best locking nuts around don't come cheap, but if you're riding on carbon fiber, they are both a necessary and entirely worthwhile investment in making sure your new wheels stay right where they are.
Finally, learrn your wheels' limitations from experience, but do so gently. This is a matter of cost as much as safety. Don't take chances with even shallow potholes. Gamble on the wrong speed bump, dip, corner or hole, and you may unnecessarily learn a lesson worth thousands of dollars the hard way.