Arizona Collision Center is a trusted and reputable body shop in Chandler, AZ, offering top-notch collision repair services. With over 20 years of experience in the industry, we have become one of the best body shops in Arizona. Our skilled technicians provide custom body work for cars and trucks, ensuring exceptional quality and attention to detail.
Customers can rely on our amazing claims assistance to streamline the repair process. With a remarkable 4.8 Google rating out of 404 reviews, we pride ourselves on our core values of quality, integrity, and trust. Choose Arizona Collision Center for unparalleled collision repair services that will restore your vehicle to its pre-accident condition.
Collision Repair FAQ's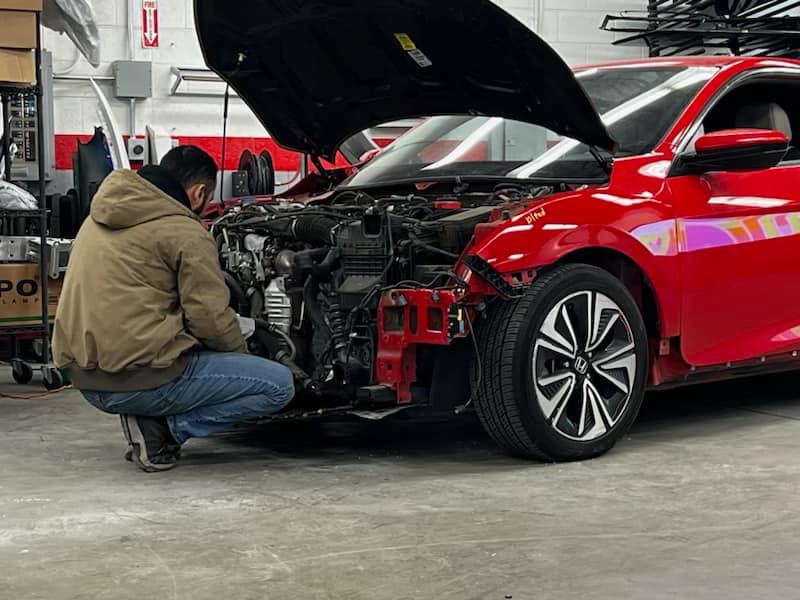 What types of collision repairs do you offer?


We offer a wide range of collision repairs, including fixing dents, scratches, paint damage, and structural damage caused by accidents.

Do you work with insurance companies for collision repairs?


Yes, we work closely with insurance companies to make the claims process as smooth as possible for our customers. We can assist you with filing your claim and communicating with your insurance adjuster.

How long does it typically take to complete a collision repair?


The duration of a collision repair can vary depending on the extent of the damage. However, our experienced technicians work efficiently to ensure timely repairs. We strive to get your vehicle back to you as quickly as possible without compromising the quality of our work.

Can you match the paint color of my vehicle after a collision repair?


Absolutely! We have skilled technicians who are experts at color matching. We use advanced techniques and high-quality paint products to ensure a seamless and accurate paint match, so your vehicle looks as good as new.

Do you provide loaner cars or rental cars during the collision repair process?


Yes, we understand that being without a vehicle can be inconvenient. That's why we have strong relationships with local rental agencies. We want to make the repair process as hassle-free as possible for our customers.
Auto Claims Assistance
At Arizona Collision Center, we believe that trust, reliability, and efficiency are the core values that set us apart from other body shops. When it comes to automotive claims assistance, we understand how stressful and overwhelming the process can be. That's why our team is dedicated to providing exceptional service to our customers, we'll handle the entire claims process.
From the moment you walk through our doors, you can trust that we will go above and beyond to assist you in every step of the claims process. Whether it's dealing with insurance companies, providing accurate estimates, or coordinating repairs, we are committed to ensuring your experience is as smooth and hassle-free as possible. We'll make sure your carrier approves OEM parts and nothing less! Don't settle for anything less than the best. Choose Arizona Collision Center for your automotive claims assistance needs and let us take care of you and your vehicle.
Custom Automotive Paint
When it comes to custom automotive paint, our team is passionate about personalization, uniqueness, and aesthetics. We believe that your vehicle should be an extension of your personality, a symbol of your individuality that turns heads wherever you go. With our expertise in custom automotive paint, we can transform your car into a work of art that speaks volumes about who you are.
Our custom automotive paint options allow you to choose from a wide range of vibrant hues and eye-catching finishes. Whether you prefer a sleek matte black that exudes sophistication or a vibrant metallic blue that demands attention, we have the perfect paint that will make your vehicle stand out from the crowd.
But it's not just about the color; it's about the intricate details that make your car truly one-of-a-kind. Our skilled technicians can create stunning designs and patterns that are tailored to your preferences. From sleek racing stripes that symbolize speed and power to intricate floral motifs that represent elegance and beauty, our custom automotive paint adds a touch of artistry to your vehicle, turning it into a masterpiece on wheels.
Your vehicle is more than just a mode of transportation; it's a canvas waiting to be transformed. Let us unleash your creativity and bring your vision to life with our exceptional custom automotive paint services. Prepare to turn heads, leave a lasting impression, and make a statement wherever you go.
Schedule An Estimate
Whether you're looking for a reputable collision center, or a body shop that provides custom work, Arizona Collision Center is your trusted automotive partner. Call our shop today and schedule a Free Estimate (480) 668-3105.