DIY Auto Painting Tips from Tempe's Car Repair Experts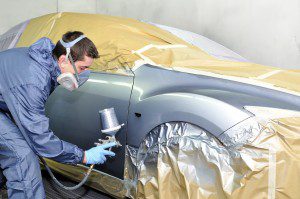 The sun's powerful rays, acid rain and good old father time can leave your vehicle's paint looking faded and dull. For some car owners, a dingy and washed-out exterior is bothersome enough for a serious change, especially if they plan on selling it in the near future. If you're looking to save cash, a DIY paint job may just be the answer, as long as you are systematic in your approach, are patient and use quality products.
It's best to plan the job when you have a few free weekends available, and to paint the vehicle under shelter unless the forecast calls for sunny skies. If you plan to paint your car the same color, you can take the vehicle's color code – which you can find on the compliance plate – to an auto body paint shop, where they can match it exactly.
DIY auto painting steps
To prepare for your DIY auto paint job, you'll need to gather the following items, most of which can be sourced at your local auto body shop or hardware store.
What you'll need to begin:
1,200 and 2,000 grit sandpaper (both wet and dry)
Masking tape
Air compressor with spray gun
Sander (electric or air-powered)
Face masks
Paint thinner
Buffer
Safety goggles
Undercoat
Topcoat enamel or acrylic paint
Clear coat
Roughly one gallon of primer, three gallons of top coat, and three gallons of clear coat lacquer are sufficient for the majority of small to medium vehicles. Larger SUVs or trucks may need a bit more to get the job done right. Approximately 1.5 half gallons of base coat, four gallons of topcoat and up to four gallons of clear coat should be sufficient. It's always better to err on having leftover paint, than being stuck with too little.
The process involves stripping, priming and, of course, painting. Car paint professionals at Arizona Collision Center know that the best outcome is achieved by sanding the vehicle thoroughly, down to the bare metal. Wet and dry sandpaper can help you get a smooth, perfectly even surface that is ready for priming.
After you've nailed your spraying technique with the spray gun and have mixed the thinner with the primer per instructions, you're ready to begin applying your base coat to the vehicle. We recommend holding the spray gun at least 6 inches from the metal, using a sweeping motion that goes from side to side. Always begin with the roof and work your way down, avoiding drips and striving for thin coats. Most cars will need at least two coats of primer, and after it has dried, you'll need to sand the surface once more for a smooth finish.
You'll apply the topcoat in the same manner as the basecoat, and each layer should take about 45 minutes to an hour between coats to cure. After you've sprayed on three to four coats and allowed them to dry be sure to sand once more to remove powdery residue and wipe off with a microfiber cloth.
The last step is applying the clear coat lacquer, which is done in the same way as the top coat.
Car paint job Tempe Arizona
While there's no doubt a DIY paint job is do-able, it's not without its challenges and frustrations – especially for the novice.  If you simply don't have the time or energy for such an endeavor and want a professional car paint job in Tempe done correctly the first time, stop by Arizona Collision Center for a free estimate on total vehicle repainting, bumper scratch repairs, minor body touch-ups and total restoration work.
Find out more about our quality car paint jobs that set us head and shoulders above the competition, and call us today at 480-524-1497.