Expert Tips for Buying a Used Car in Tempe, AZ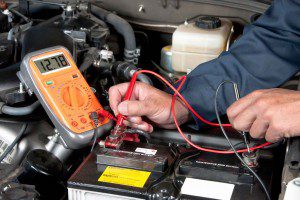 To many people, it may seem that buying a used car is either a crap shoot or a sure-fire invitation to blow your hard earned money. Well, it doesn't have to be if you follow some basic tips from the auto body experts at Arizona Collision Center in Tempe.
Set a budget and stick to it
You're buying a used car because it's an economical way to get yourself on the road with a reliable vehicle. If you're headed for a used car lot, go with a set number in mind and stick to it. There will always be a shinier, faster model on the lot for a few thousand more and a salesman whose job it is to help you blow the budget. Be firm and be willing to walk away.
Research the model you want until you know exactly what you're getting
With Google, all the research you need is at your fingertips. There are articles, videos, forums, blogs, pricing guides, reviews—anything you ever wanted to know about a particular model of used car is online. Pay special attention to the forums—these are owners who love (or hate) their cars and want to talk about it. 
Try a used car inspection from Tempe automotive experts
Be open but be careful when buying a used car from a private party. There are almost no consumer protections covering private transactions. Since used cars from a private owner are purchased "as is", you'll have little recourse if you get stuck with a lemon. You may save some money buying privately rather than off a lot, but dealers are generally subject to implied warranties. These are unwritten warranties that hold sellers responsible if the product they sold doesn't meet reasonable quality standards. The Federal Trade Commission (FTC) also mandates that dealers post a Buyer's Guide in each used car they sell.
The certified used car inspection technicians at Arizona Collision Center in Tempe can run a complete bumper to bumper inspection of a used car before you consider purchasing it.
Buying a used car at the dealership where it was sold new can be a good idea
If the vehicle was taken care of by its owner and returned to the dealer for regular servicing, the dealer will have the service records to show you. The dealer may also know the owner of the vehicle personally and may be able to share some details on the vehicle that could be helpful.
Show me the CarFax
A Car Fax is a detailed report of the history of a particular automobile. It costs a few bucks but is worth the expense to find out if the car has sustained damage that may not be obvious to you, such as flood damage or a bent frame from a collision. To run a CarFax report, just find the vehicle identification number (VIN) on the title or on the driver's door jamb.
Know the value of the car you're looking for
Take advantage of valuable online pricing tools like the Kelley Blue Book and Edmunds. The Blue Book's been around for 90 years with accurate pricing and value information on used cars. The same goes for Edmunds.com, which can give you up-to-the-minute used car values based on what others in your area have paid for the same car and features.
Save yourself money and grief by getting a used car inspection
Whether you buy from a private owner or a dealership, call the Tempe used car inspection experts at Arizona Collision Center at 480-668-3105 for a detailed bumper to bumper analysis of the interior and exterior of the vehicle you're thinking of purchasing.  They'll find any unseen previous damage that has since been repaired but still presents underlying issues as well as serious hidden problems like a bent frame or flood damage. You'll receive a fully documented written report of your used car inspection, complete with photos, a complete engine check, and a test drive.