DIY Fender Bender Repair: Tips from the Experts in Tempe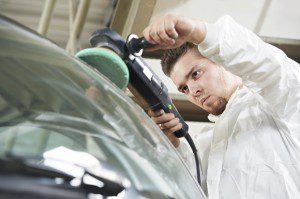 The bad news is your car's dented fender. The good news is that with some easy-to-find tools and a little know how, you can probably do a pretty good job of fixing that fender bender yourself. Of course, it won't have that new car look that the professional fender bender repair team at Arizona Collision Center in Tempe can give you, but you'll be able to save some money by not having to go through insurance, paying the deductible, and then possibly getting an increase in your insurance rate.
Do-it-yourself tips from Tempe's fender bender repair experts
To get started on a do-it-yourself repair, you'll need some tools. Stop by your local auto parts store and pick up a dent puller with a suction cup. It comes with a handle and is perfect for pulling a dented fender or door panel back into shape. Buy a rubber mallet, some Bondo, some bumper filler compound, sand paper from 80 grit to 400, and a good car wax.
You'll need to do some paint matching with almost any fender bender. Look for the paint code for your car on a small sticker in your engine compartment. If you don't find it there, look for a small sticker on the door jamb on the driver's side.
If you can get your hand behind the dent with enough room to push, you may be able to just pop the dent out from behind by hand. If you're not able to push the dent out that way, try the dent puller. A rubber mallet is also effective for helping to pound out the dent. By using small taps with the mallet and some patience, you should be able to slowly pound the dent back to its original shape. Just remember that small taps are much more effective than big swings when smoothing out a dent.
Sometimes, a fender bender creases the bodywork rather than pushing it in. Get a small block of wood behind the crease and steadily tap it with a hammer along the length of the crease until the crease begins to smooth out.
You should be able to do a passable minor touch up paint job with several applications of Bondo, a good sanding job starting with 80 grit and working up to 400, some primer and paint, and a good wax job.
No substitute for professional auto body repair
As patient and as careful as you are, you might not be able to achieve the new car look that the Tempe fender bender repair professional at Arizona Collision Center can. If you go to resell your car, an inspector will quickly point out the DIY repair to your buyer, and your resale value will take a hit.
Call our certified auto body technicians and we'll show you how to retain your full resale value should you decide to sell in the future. If you'd like, we'll take a look at the work you did and make any necessary upgrades to your DIY job. We'll check for faulty paint matching and other signs of DIY repair work and correct those flaws so you can have that new car feel once again.
Stop in or call us at 480-524-1509 for a comprehensive inspection. We'll let you know what you need to do to get your car back in showroom shape.