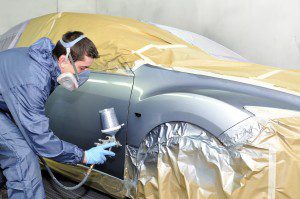 Right after a serious car accident, you can expect some push and pull with your insurance company. They may suggest several auto body shops to do the repair on your car called Direct Repair Program shops (DRPs). These are shops that contract with auto insurers to do collision repairs at the lowest possible cost to the insurance companies.
The DRPs have severe limitations on not only labor costs but also on the cost and quality of the parts used in the auto body repair process. DRPs will use aftermarket parts which are essentially knockoffs of original equipment manufacturer parts (OEMs). The aftermarket parts are cheaper (Edmund's calculates that aftermarket auto body parts are 60% cheaper than original manufacturer parts). Aftermarket parts can be fine or they can be of inferior quality and diminish the value of your car if installed.
Arizona Collision Center uses only OEM parts to ensure proper fit and original showroom quality.
As a consumer, you have rights in the collision repair process
It's important to remember that you do not have to use the shop that the insurance company suggests. Tell the insurance company representative that you will be using Arizona Collision Center for your repairs. It is your right as a consumer to choose the repair shop you want.
The insurance company may also tell you that you need several estimates. You do not. One is enough. Insurance companies may also try to cap the cost of your repairs. They cannot. You have a right as a consumer to have your car repaired completely and correctly using the proper parts and materials.
Now that you know you're in the driver's seat regarding your repairs, here are some simple things to remember and steps to follow that will make your life easier and ultimately make the repair process go smoothly.
Auto body repair process, step by step:
Call your insurance company and report the claim without delay. You pay premiums to them every month for this situation, and it's their responsibility to help you through the process.

The insurance company will give you a claim number which you should stick in your phone immediately for quick reference.

Tell the insurance company you are using Arizona Collision Center to do your body work.

Call Arizona Collision Center, let us know what happened, and give us the claim number. We'll arrange a tow, a loaner from the rental company, even an attorney if you need one.

Arizona Collision Center will bring the car back to the shop for an inspection of all damage, both obvious and hidden. We'll take photos of the damage and issue a complete electronic report to forward to the insurance company for their evaluation and approval of the repairs.

Once the repairs are approved, original equipment manufacturer parts are ordered and delivered.

Once the repairs have been completed, BASF paints are color matched to return your damaged car to its original condition.

The car is test-driven and any necessary adjustments made before the car is thoroughly detailed to showroom condition and signed off by ACC technicians for you to pick up.

Diminished Value and what insurance companies won't tell you
After your car is repaired, filed a Diminished Value claim
Diminished value is the loss in resale or market value that a car suffers after it has been repaired following an accident. Insurance companies will not tell you that by law you are entitled to file a claim for the diminished value of your car. A car that has suffered significant damage in an accident and is then repaired can lose 25% or more of its value.
The two requirements for filing a successful claim for diminished value are that the accident was found not to be your fault, and that the other driver is insured, since the claim is brought against the insurance company of the other driver.
As a consumer, you can also file a diminished value claim against a Direct Repair Program shop if you feel that your car wasn't repaired properly or completely due to the limitation of their contract with the insurance company to provide low cost collision repairs.
The Tempe auto body repair experts at Arizona Collision Center can help you select a qualified auto appraiser to determine the diminished value of your car.